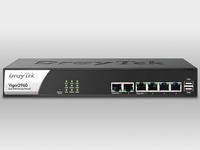 2*GigaWAN, 4*GigaLAN, 2*USB (3G/4G, FTP, Printer, temperature sensor), 200 VPN (PPTP, IPsec, GRE over IPsec, SSL LAN to LAN, L2TP (Dial-In only), L2TP over IPSec (Dial-In only)), 50 SSL VPN, SSL VPN (LAN to LAN), IKEv2 for IPSec, VPN Backup, VPN Load Balance, Central VPN Management (12), Central AP Management (50), Switch Management, CSM, User Management, Guest Profile (генерация гостевых аккаунтов), Multi-LAN (20), LAN DNS, DNSSEC, LAN Port Mirror, Policy Route (120), RIP, OSPF, BGP, PPPoE Server, High Availability, Internal RADIUS, GVRP, Firewall, Brute Force Protection, QoS, IPTV, SMS/Mail Alert Service, IPv6, 802.1q (WAN, LAN), SmartMonitor 200
About
The Vigor2960 Series serves as a VPN gateway and a central firewall for multi-site offices and tele-workers. With its high data throughput of two-Gigabit Ethernet, Dual WAN, VPN trunking and 4 Gigabit Ethernet LAN ports, the device facilitates productivity of versatile business operations. To secure communications between sites is the establishment of VPN tunnels up to 200 simultaneous tunnels.
DrayTek Vigor2960-Dual-WAN Security Firewall offers:
Gigabit Dual WAN interface providing load-balancing and failover for high performance and business continuity
4-port Gigabit LAN interface for facilitating managed services applications
Enhanced security including:

Object-base firewall with advance users (e.g. IP), applications (e.g. IM & P2P,) and content management (web category, keyword and URL)
VPN connection for LAN-to-LAN (site-to-site) and Remote dial-in (client-to-site) with dynamic VPN services: IP Security (IPsec) VPNs (Triple Data Encryption Standard [3DES] or Advanced Encryption Standard [AES]),and SSL VPN Web Proxy)

An 4-port 10/100/1000 Gigabit Ethernet managed switch with VLAN support (Up to 20 VLAN groups)
Two USB 2.0 ports for printer, file sharing* and 3.5G/4G USB mobile broadband*
Bandwidth Management with 8-level priority Inbound/Outbound QoS
IPv4/IPv6 support to protect investment
TR-069 Management / Working with VigorACS SI
The High Availability (HA) feature refers to the awareness of component failure and the availability of backup resources. The complexity of HA is determined by the availability needs and the tolerance of system interruptions. Systems, provide nearly full-time availability, typically have redundant hardware and software that make the system available despite failures.
The high availability of the Vigor2960 is designed to avoid single points-of-failure. When failures occur, the failover process moves processing performed by the failed component (the "Master") to the backup component (the "Slave"). This process remains system-wide resources, recovers partial of failed transactions, and restores the system to normal within a matter of microseconds.
Take the following picture as an example. The upper Vigor2960 is regarded as Master (Active) device, the lower Vigor2960 is regarded as Slave (standby) device. When Master Vigor2960 is broken down, the Slave device could replace the Master role to take over all jobs as soon as possible. However, once the original Master is working again, the Slave would be changed to original role to stand by.
The Vigor2960 also provides high-security firewall options with both IP-layer and content based protection. The DoS/DDoS prevention and URL/Web content filter strengthen the security outside and inside the network. The enterprise-level CSM (Content Security Management) enables users to control and manage IM (Instant Messenger) and P2P (Peer to Peer) applications more efficiently. The CSM hence prevents inappropriate content from distracting employees and impeding productivity. Furthermore, the CSM can keep office networks threat-free and available. With CSM, you can protect confidential and essential data from modification or theft.
By incorporating CYREN's GlobalView Web Content Filter services, DrayTek ensures its customers' networks are protected by the best available security technology.
Enable real-time protection from emerging Web threats including malware, phishing and Zombies/bots
Prevent browsing to questionable content like pornography and hate sites
Block or monitors sites to maximize employee productivity
Identify sites that consume an organization's bandwidth (e.g. movies, music)
With a dedicated VPN co-processor, the hardware encryption of AES/DES/3DES and hardware key hash of SHA-1/MD5 are seamlessly handled, thus maintaining maximum router performance. For remote tele-workers and inter-office links, the Vigor2960 supports up to 200 simultaneous VPN tunnels (such as IPsec/PPTP/L2TP protocols) and the VPN throughput can reach up-to 400Mbps (IPsec).
The embedded Central VPN Management (CVM) will let network administrator register up to 16 remote routers but run concurrent remote management over 12 remote routers.
DrayTek has implemented IPv6 on Vigor2960 to ensure a smooth migration path for the affordable but faster broadband. The WAN-IPv6-connection can be established via Static IPv6, DHCPv6 and TSPC. It also supports Open Shortest Path First (OSPF) to calculate the route metric (Up-to Version 2). There are two USB ports on Vigor2960. In addition to the function of USB printer server, you can connect a compatible 3.5G USB mobile for access to the cellular network.
You can also add storage memory to the USB port of Vigor2960 in the form of a USB memory key or a USB hard drive. Then, the FTP access file uploading/downloading can be from the local LAN of Vigor2960 or from anywhere on the Internet*. It is very simple for you to deploy file depository. With user name and passwords, each of file depository can have their own directories and/or file access rights.
Working with TR-069 Central Management System
The Vigor2960 can be centrally managed by VigorACS SI to lower the workload of the IT Dept. The VigorACS SI centrally manages essential router features, such as LAN, WAN, WLAN or VoIP without the technician visits that improves user experience and contribute significant cost-saving. For instance, admin can schedule firmware or configuration updates for selected devices at one time. It also offers the real-time alert to notify admin when things go wrong, such as disconnected or VPN dropped via e-mail and SMS to guarantee the faster response.
Vigor2960- Dual-WAN Security Firewall delivers state-of-the-art security and performance which allows enterprise small branch-office customers to optimize the usage of the high-speed broadband access. Managed service provider and system integrator can install Vigor2960 to give business customers a complete network solution in their remote sites.
Model
| Model | Product | GbE. WAN | GbE. LAN | USB | VPN | SSL VPN |
| --- | --- | --- | --- | --- | --- | --- |
| Vigor2960 | | Yes | Yes | 2xUSB 2.0 | 200 Tunnels | 50 Tunnels |
Specification
Hardware Interface

4 x 10/100/1000Based-Tx LAN Switch, RJ-45
2 x 10/100/1000Based-Tx WAN1 Port, RJ-45
1 x Factory Reset Button
2 x USB Host 2.0 (for Printer / 3.5G USB Modem)

Temperature
Operating : 0°C ~ 45°C
Storage : -25°C ~ 70°C
Humidity
10% ~ 90% ( non-condensing )
Power Adapter
AC100-240V/ 1.0A
Max. Power
19 watt
Dimension
L273 * W176 * H46 ( mm )
IP Protocol
WAN Protocol
DHCP Client
Static IP
PPPoE
PPTP
L2TP*
Multi-WAN
Load Balance
WAN Connection Failover
NAT Session
NAT
Port Redirection
DMZ Host
Open Ports
Address Mapping
Network Feature
Hardware NAT
DHCP Client/Relay/Server
DHCP Option: 1,3,6,51,53,54,58, 59,60,61,66,125
IGMP v1/v2c
Dynamic DNS
NTP Client
DNS Cache/Proxy
UPnP up to 500 Sessions
Wake on LAN
Multi Subnet LAN (base on VLAN)
Routing Protocol:

Static Routing
RIP v1/v2
OSPF
BGP
VPN
Up to 200 VPN Tunnels
Protocol: PPTP, IPSec, L2TP, L2TP over IPSec
Encryption: MPPE and Hardware-based AES/DES/3DES
Authentication: Hardware-based MD5, SHA-1
IKE Authentication: Pre-shared Key and Digital Signature (X.509)
LAN-to-LAN, Teleworker-to-LAN
DHCP over IPSec
NAT-Traversal (NAT-T)
Dead Peer Detection (DPD)
VPN Pass-through
VPN Wizard
SSL VPN
Firewall
Object-based Firewall 

IP Object
Service Type Object
Keyword Object
File Extension Object
IM/P2P Object (APP Control)
Protocol Object
Web Content Object
Time Schedule Object

IP Filter, Application Filter, MAC Address Filter
SPI (Stateful Packet Inspection)
DoS Defense
Port Block
Bind IP to MAC Address
E-mail Alert and Log via Syslog
CSM (Content Security Management)
Object-based: 

URL Control Filter
Web Content Filter
APP Enforcement (IM/P2P Blocking)
Bandwidth Management
QoS :

Guarantee Bandwidth for VoIP
Class-based Bandwidth Guarantee by User-defined Traffic Categories
DiffServ Code Point Classifying
Multi-level priority for each direction (Inbound/Outbound)

Bandwidth/Session Limitation
802.1p and Layer-3 (TOS/DSCP)QoS Mapping
Network Management
Web-based User Interface (HTTP/HTTPS)
Quick Start Wizard
CLI (Command Line Interface, Telnet/SSH)
Administration Access Control
Configuration Backup/Restore
Built-in Diagnostic Function
Firmware Upgrade via TFTP/HTTP/TR-069
Logging via Syslog
SNMP Management MIB-II
Session Time Out Management
Smart monitor support (user):200
CVM support (device) : 12
Multi-level Management (Admin/User Mode)
Time Schedule Control
User Management
support USB temperature sensor
SMS/Email Alert
TR-069
Central Management
Central VPN management
Central AP management
Central Switch management 
USB
3.5G WAN (1.0.7 support 3G modem x2)*
Printer Sharing
FileSystem :

Support FAT32/FAT16 File System
Support FTP Function for File Sharing
Switch
IGMP Proxy/Snooping*
Tag-based (802.1q) VLAN
Up to 20 VLANs
Port-based VLAN
* Firmware upgradable
---
All specifications are subject to change without notice. Please check with your supplier for exact offers. Products may not be available in all markets.
PCB color and bundled software versions are subject to change without notice.
Brand and product names mentioned are trademarks of their respective companies.
Основные
Производитель

DrayTek
Страна производитель
Тайвань